A red string of fate

7 February 2016 Told through the voice of Paula, co-written by Paula and May-Li.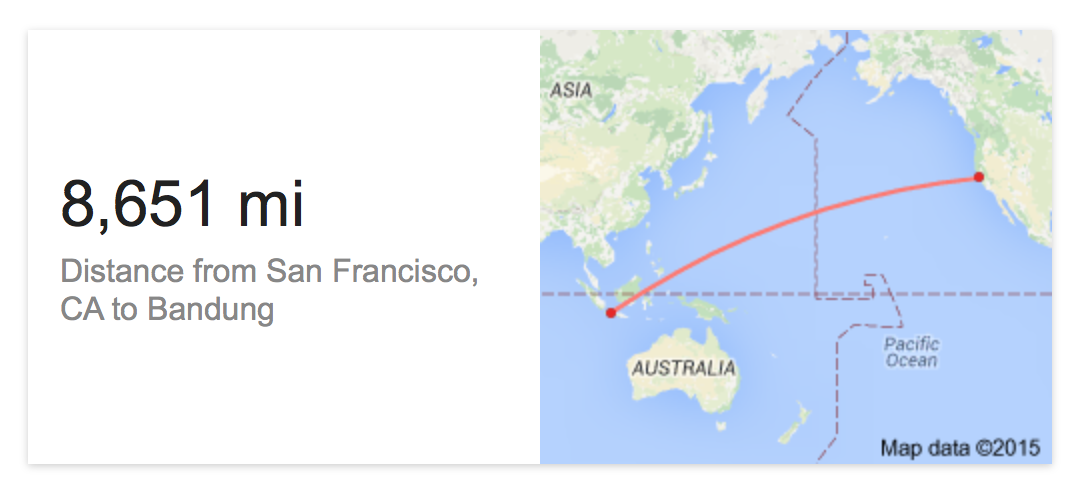 When we first met in San Francisco, we were sitting on a beanbag chair in a lab investigating how computing might work 50 years from now. We immediately discovered we were both Indonesian-Chinese. It went something like this:
Rob: May-Li, this is Paula Te.
May-Li: Nice to meet you Paula! Are you by any chance Indonesian-Chinese? Paula: Yeah! How'd you know?
---
Five months later, we made an unexpected discovery while sitting next to each other at May-Li's kitchen table. We wanted to map out the journeys that brought us to where we are today, which meant digging into our histories.
We started out by uncovering where our families lived, and how they traversed the globe to end up in the Western world. May-Li began with a difficult search for conversations with her dad she had captured prior to their trip to Indonesia in 2011. She had recorded a call with him while he described her great-grandfather's journey to Java. Her great-grandfather had been a fisherman, she remembered her father saying. But all this recollection wasn't helping her find the actual recordings. They were lost from her phone; the recorded voice memos that claimed to be minutes long contained no data. May-Li's father passed in 2013, and the information was possibly lost forever.
Across from May-Li, I had an easier time finding my family tree on Geni, an online genealogy tool. My mother's side was populated up to 4 generations past, back to when my great-great grandparents were born in the 1800s; one of them was born in China. Someone had kept good record of my family lineage, and I was just starting to appreciate this.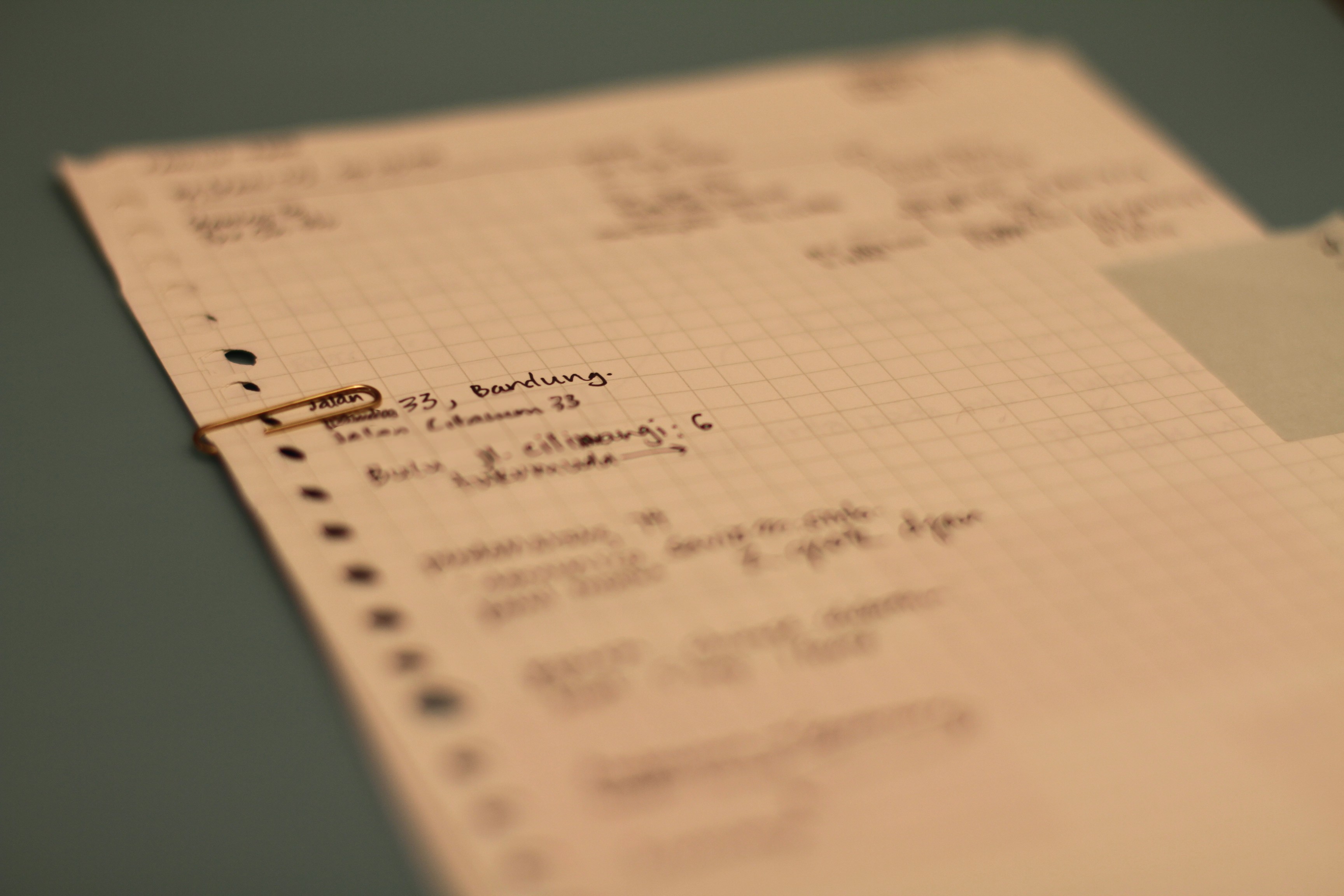 While going through the tree, I clicked on a photo of my mother's family. The photo was taken when they lived in Bandung. My mom was pictured with her mother and grandmother, as well as a few of their siblings and cousins, in front of their old house.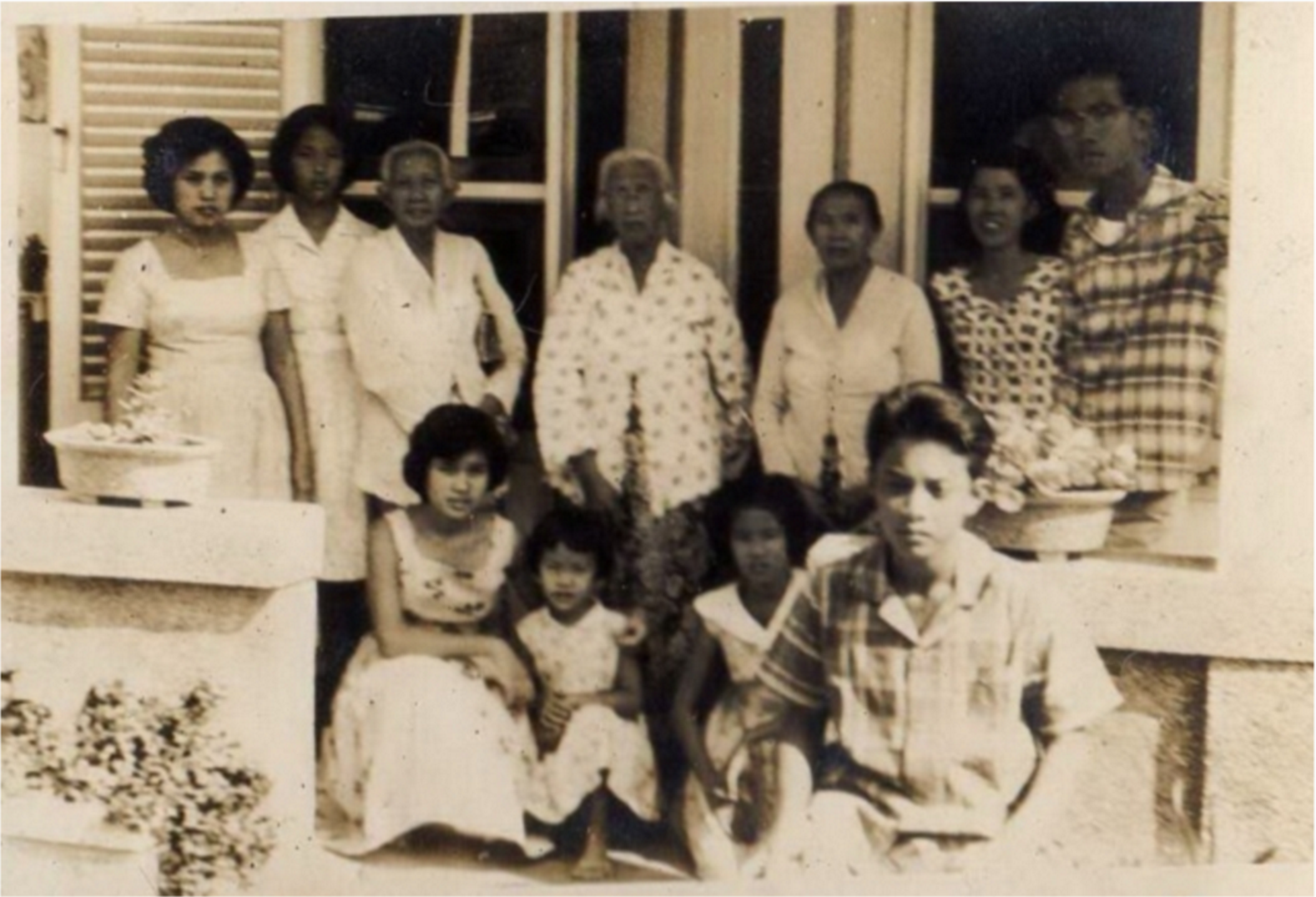 Underneath the picture were a few notes by my mother's cousin: "Got this picture from second cousin," it says. It also listed the exact address of the photo, which made me remember: I had visited this house with my mom back in high school.
May-Li couldn't help but notice the style of the shutters and front porch in the photo. She remembered her father speaking about this style of house, and how the shape of the roof was designed to let the hot air rise, leaving the living spaces naturally cooler.
It reminded her that when he and May-Li went to Indonesia in 2011, they'd visited his old student house; he'd lived in Bandung while studying there. That day, he hadn't been sure of the exact address, so they had driven slowly through the streets with the windows down. He'd recalled that at his university in 1965, students had staged mass beatings of other students. These were early signs of political unrest. He knew the beatings had been choreographed, because the students had made sure to swap classes so as not to have to beat their direct classmates.
As they were driving, he felt a sudden pang of familiarity. They parked and found his old house on foot.
May-Li combed through her photos to find a picture of the house. It had wound up in the wrong folder, despite her best efforts to meticulously file all the footage by location and date.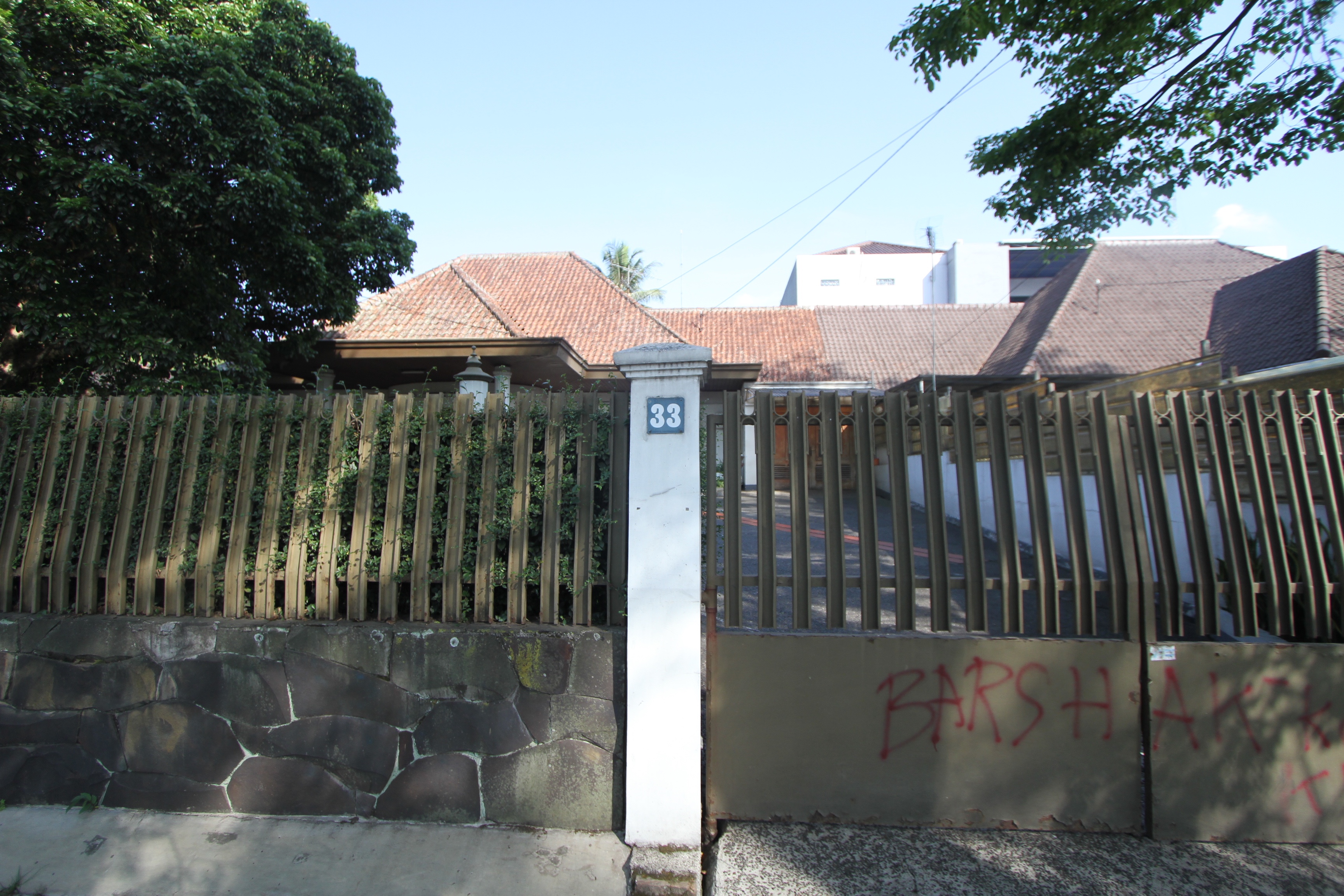 We exchanged incredulous looks. The house number was the same exact number listed on the photo of my mother at her house: 33. My grandparents used to rent some rooms to students. Could this be the same house? We needed to find the street name of the house in May-Li's photo.
Digging around the adjacent photos mostly yielded footage of Indonesian food. However, based on the timestamp, we were eventually able to find a video taken with a different camera. The camera is behind May-Li's father as he walks from the car to the house he lived at as a student in Bandung. Anyone who knew May-Li's father would sense the excitement in his walk; he's moving faster than his usual careful gait.
My heart was pounding as the video played. I caught a glimpse of a street name on a plaque as her father walked past an office building. May-Li rewound and searched for a non-blurry frame to squint and read the street name.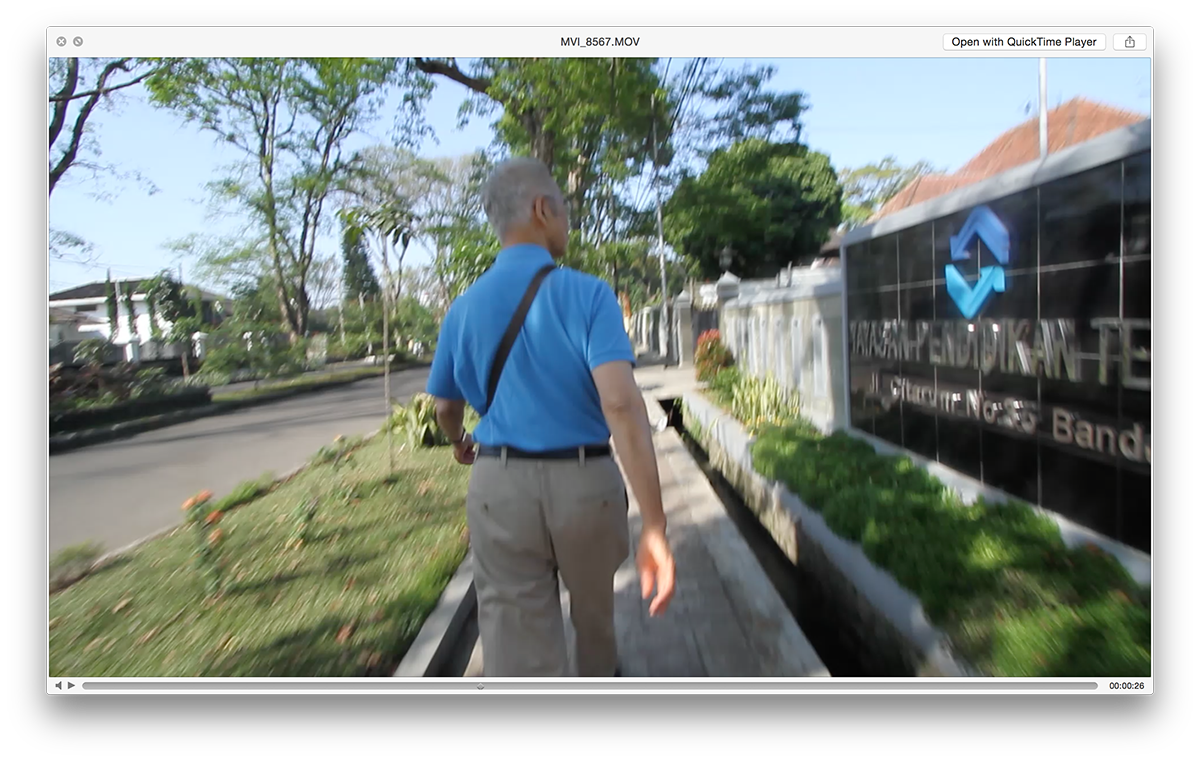 I was a little disappointed that it wasn't the same street that my mother's house was on. Probably that had been a long shot. How far away was it, though? We rushed to Google maps to check the distance.
We held our breaths as the blue dotted line appeared between the two locations. Walking time: 12 minutes. 1.0 kilometers. We stared at the map for a minute, unable to speak. Of all the habitable locations on this earth, 50 years earlier our parents had been within one kilometer of each other. On that day, May-Li and I were sitting next to each other, over 12,000 km across the world (that's over 8000 miles).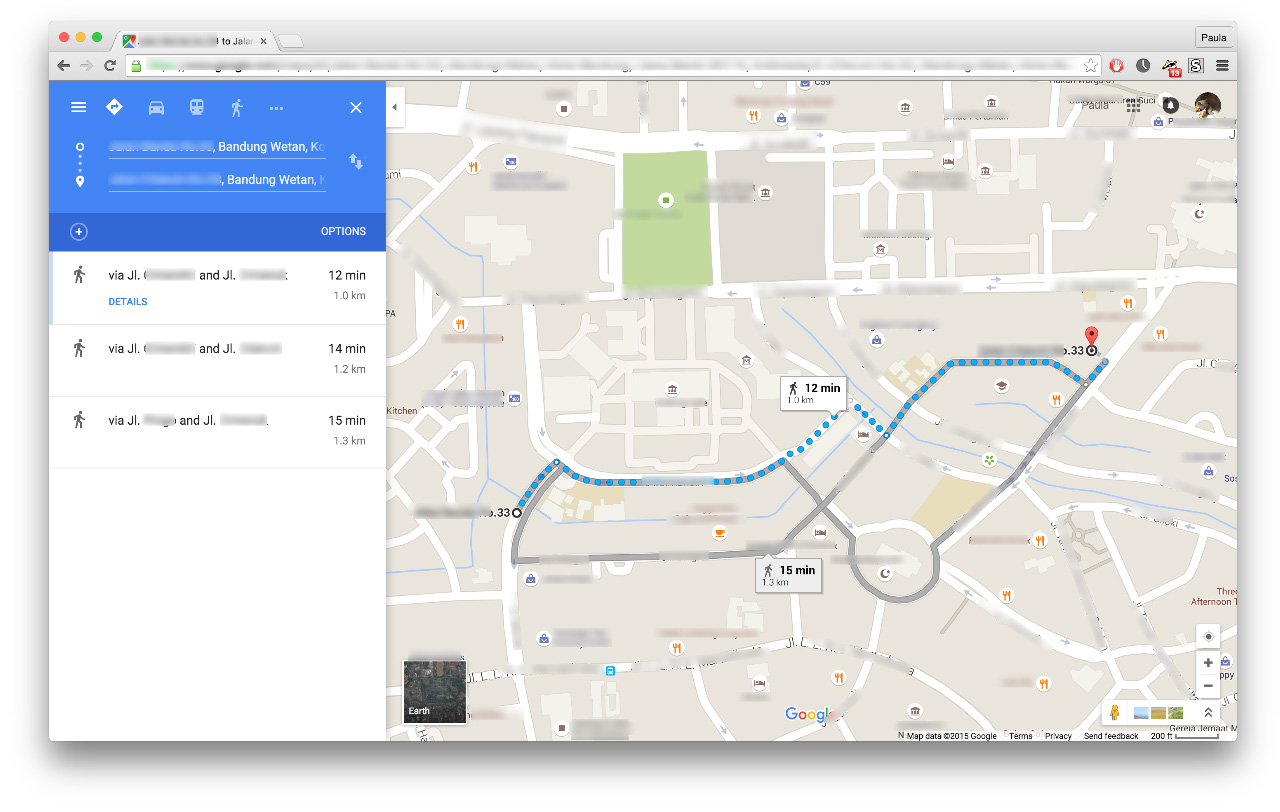 I called my parents.
Over speakerphone, I explained to my mom what we had discovered. She asked where May-Li's father had been before university. May-Li explained he'd gone to high school in Semarang.
My mom called my dad over. She contributed to the detective-work, asking if May-Li's father went to Loyola SMA, a high school. May-Li said he did. My father also lived in Semarang growing up, and also went to Loyola.
"Wow," said May-Li, "I had no idea your father spent time in Semarang."
"Me neither!" said Paula.
We discovered that while our fathers had just barely missed each other at Loyola, May-Li's uncle may have been my dad's classmate. Upon hearing her uncle's name, my dad's voice lit up. "Oh! I think I went with him to Jepara. We went to see a Chinese boat festival there."
Not only were my mom and May-Li's dad neighbors in Bandung, my dad and May-Li's father walked the same high school hallways, and my dad might have been friends with May-Li's uncle.
These pieces of serendipity were so shocking to us that we started to question: how much of a coincidence is it if you meet someone whose parents lived a mile away from your own, halfway across the world, fifty years ago*? Is it possible that our families' threads have crossed even more than this?
As of right now, we honestly do not know. This story doesn't have an end yet, because we're living it right now. We'll be continuing to dig and share what we find with you. May-Li has asked her uncle whether he remembers Paula's father. May-Li's uncle and Paula's father are both waiting on us to send old photos of them. We'll see what happens. Stay tuned!
* Really, if you are a first-generation westerner of Indonesian-Chinese descent and have any insight into this, let us know.